Our brand new IQ Magnet Bag is for you if you are working on your dog's heeling position or the...
more
Product information "IQ Magnet Bag"
Our brand new IQ Magnet Bag is for you if you are working on your dog's heeling position or the basic position.
Simply attach the The IQ Magnet Bag to the bottom of the vest's left armhole (three little loops. The IQ Magnet Bag is almost invisible (and even more so for your dog). Insert a ball or other small toy. The pouch almost closes on its own thanks to extra strong industrial magnets. Once you are ready to reward your dog, pull the string cord on your right side and the toy will drop.
Why wouldn't you just tuck a toy under your left arm as many have done for a long time? Because the dog knows exactly if the toy is there or not. For starters, the dog can see the toy tucked under the arm. In addition, no one walks naturally with a toy tucked under. It is very hard to get a reliable behavior for trials and competitions if your dog knows exactly if he will or will not get his reward. If you reward from the IQ Magnet Bag, your dog will keep his hopes up even if you don't have a reward in a trial. Watch our videos to see how we use it in training.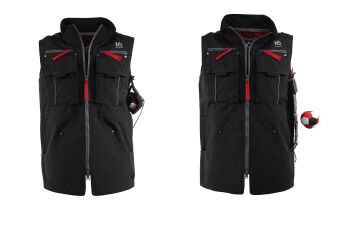 Related links to "IQ Magnet Bag"
Read, write and discuss reviews...
more
Customer evaluation for "IQ Magnet Bag"
From:
Heiko Anschütz
On:
15 Sep 2023
Super Tasche
Habe mir die Tasche geholt weil mein Hund den Ball immer voll Sabbert und er mir aus dem Arm flutscht. Finde die Tasche in Kombination mit der trainingsweste 3.0 echt klasse und würde ich mir immer wieder kaufen.
From:
Roland Weißenbach
On:
20 Mar 2023
Pfiffiges Gadget
Durch das Seilzugsystem leicht zu bedienen.
Die Bestätigung erfolgt somit unerwartet.
Gute Idee, clever umgesetzt.
From:
Manfred Thein
On:
18 Mar 2023
Kann man nur weiterempfehlen ist eine große Unterstützung bei dem Ausbildung des Hundes
Gerne wieder hält das was es verspricht super Unterstützung bei der Ausbildung des Hundes
From:
Barbara Schmid
On:
18 Mar 2023
Tolle Idee
Ich hab mir die Magnettasche dazu bestellt weil das System an sich eine super Idee ist, nur bekomme ich die Bälle die mein Hund mag dort fast nicht hinein, weil etwas klein…Zudem ist der Magnet etwas schwach! Trotzdem eine super Sache!
From:
Dušan
On:
14 Mar 2023
Magnetic pocket
Magnetic pocket is great. Super idea. I like that the ball is hidden in the pocket, but it is there somewhere(dog thinking).
From:
Bartnik
On:
13 Mar 2023
From:
Dieter Fabian
On:
16 Jan 2023
Die bestellte Magnettasche für Weste 3.0
Einfache Montage. Qualität wie erwartet.
From:
Frank Lill
On:
12 Jan 2023
Tolle Idee ! Sehr gute Umsetzung, könnte für Bälle etwas größer sein.
From:
Admin
On:
13 Jan 2023
Hallo Frank,
vielen Dank für die tolle Bewertung! Das Problem mit der Größe ist, dass die Tasche dann auch zwangsläufig weiter runter hängt. Wenn der Größenunterschied zwischen Hundeführer und Hund nicht reicht, hängt der Hund mit der Nase an der Tasche.
From:
Weidlich
On:
6 Jan 2023
Würde ich wieder kaufen.
Praktisches Hilfe. Funktioniert super.
From:
Manuela Kodela
On:
2 Dec 2022
From:
Aike Franz
On:
6 Nov 2022
Sehr gut
Die Magnetballtasche wird von meinen Hunden sehr gut angenommen und das Training macht viel Spaß .
Die Magnete könnten allerdings etwas stärker sein .
From:
Massimo Marri
On:
3 Oct 2022
IQ Magnettasche
Die Tasche ist top!!!
From:
Joachim Hahn
On:
3 Oct 2022
Magnettasche in Verbindung mit der IQ Hundesportweste 3.0
Ich finde die Tasche super, mir war es wichtig, dass dIe Tasche verdeckt getragen werden kann. die Erwartungshaltung des Hundes ist um ein vielfaches höher.
From:
Petra Nietzsch
On:
25 Sep 2022
Finde die Tasche gut
Finde das eine gute Idee
From:
Saur
On:
21 Sep 2022
Super
Klasse Idee , gut umgesetzt
From:
Brigitte Heise
On:
18 Sep 2022
Alles top!
Die Tasche ist top!
From:
Britta
On:
16 Sep 2022
perfekt
Mein Hund spricht super darauf an.
From:
Corina
On:
15 Sep 2022
Die Funktion der Tasche ist super. Der Magnet müsse etwas fester sein
From:
Sabine Randzio
On:
13 Sep 2022
Das Tool ist wie für uns gemacht.
Die Tasche ist genial. Unglaublich was für Fortschritte mein Hund damit gemacht hat.
Write an evaluation
Evaluations will be activated after verification.