The IQ Summer Vest combines all the functions of our new training vest 2.0 and is suitable for...
more
Product information "IQ Summervest 3.0"
The IQ Summer Vest combines all the functions of our new training vest 2.0 and is suitable for the warmer days of the year. The vest is made of a light black with a waffle look. Stable mesh fabric on the back and shoulders ensures for air permeability.
Our vest has been a bestseller for a long time for many reasons! Even the K9 handlers of the German police wear a special version of it. And this new version even comes with 1. a stringcord system for the chest pocket (you no longer need to purchase this separately) and 2. is compatible with our new IQ Magnet Bag! Take a look at its features!
Big Front and Back Pockets
The IQ Summer Vest has all the pockets that you need: The pockets for treats are very large, while the back pocket offers enough space for your leashes and toys.
Convertible Chest Pocket (patented)
Our Summer Vest has two separate chest pockets. At your choice, you may convert these two pockets into one large chest pocket. Why? Insert your reward in the center pocket prior to a recall or retrieve exercise. You can now reward your dog in the front position with both hands from the center of your body. This will teach your dog to come in and stay straight in front of you. If your dog, on the other hand, anticipates a toy coming from a side pocket, you will have a much harder time teaching him to stay straight. The dog's body generally gravitates to the direction in which he expects the reward to come from. This feature is key in our trainings and we never train a front sit without the convertible chest pocket.

String Cords for Chest Pocket
Increase your dog's focus even more, by using our stringcords to open the chest pocket. Simply pull the string cords at your hips (not leaving your basic position) and the toy will drop down for your dog to catch. This will make for a higher expectation and expression: a lot of dogs enjoy the excitement that comes with a spontaneously dropping toy.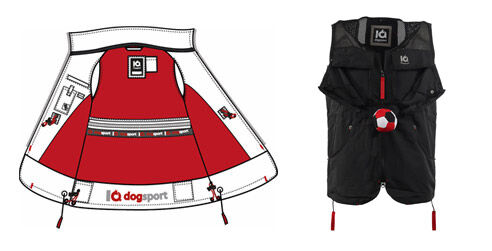 Compatible with IQ Magnet Bag
The IQ Dogsport vest 3.0 is compatible with our new IQ Magnet Bag. It is for you if you are workig on your dog's heeling position or his open expression.
The IQ Magnet Bag can be attached at the bottom of your left armhole: it is almost invisible (and even more so for your dog). Insert a ball or other small toy and close it easily with its magnet closure. Whenever you are ready to reward your dog, pull the string cord on your right side and the toy will drop.
Why wouldn't you just tuck a toy under your left arm the way many have done it for a long time? Because the dog knows exactly if the toy is there or not and will not have a reliable behavior for trials and competitions. For starters, the dog can see the toy tucked under the arm. In addition, no one walks naturally with a toy tucked under. Watch our videos to see how we use it in training.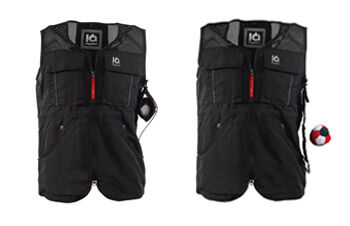 Back Slot
If you use a tracking flag, whip or position stick, you will be happy to store it in the vest's back slot.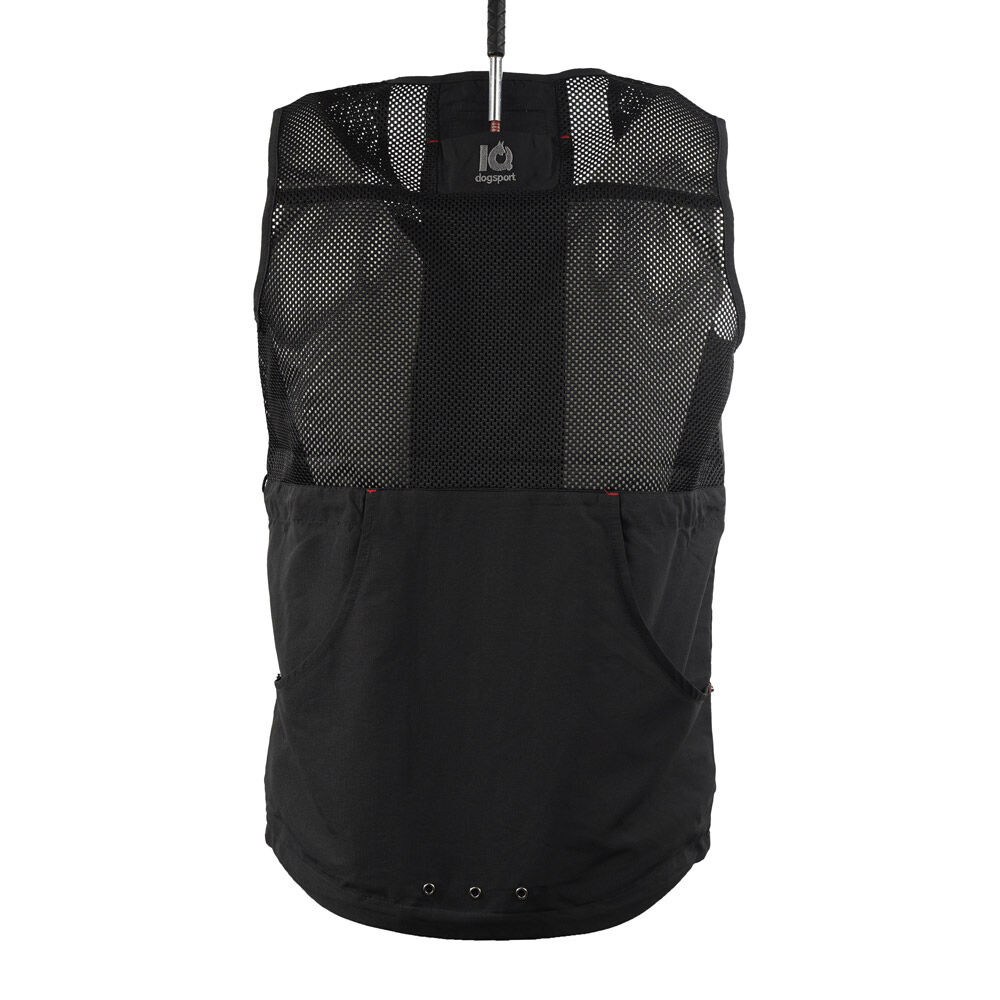 Magnet Pockets
If you train with magnetic toys, use our magnet pockets on the inside of our vest to store them safely. This way, it is enough to only use one magnet rather than two (easy way to save money). In addition, you will not lose the magnet accidentally. Something that happened to us a lot in the past when we had dogs who got the ball on their own upon release.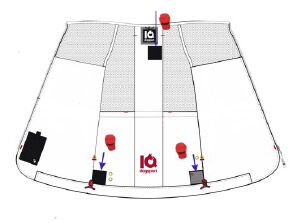 Tried and tested
Of course, the IQ dog sports vest is super robust, scratch-resistant, water-repellent and breathable! This vest has gone through every imaginable endurance test... From Mali to Rottweiler, from Dobi to German Shepherd... Sport or work... Wind, rain, snow and mud... Despite its super comfortable materials and stylish look, its with you to last.
Measurements
| | | | | | | | | | |
| --- | --- | --- | --- | --- | --- | --- | --- | --- | --- |
| Size | XXS | XS | S | M | L | XL | XXL | 3XL | 4XL |
| ½ Chest Widht | 47 | 49 | 53 | 57 | 61 | 65 | 69 | 73 | 77 |
| ½ Hem Widht | 47 | 49 | 53 | 57 | 61 | 65 | 69 | 73 | 77 |
| Shoulder Width: armhole to armhole | 36 | 38 | 40 | 42 | 45 | 48 | 51 | 54 | 57 |
| Center back length from neckline | 64 | 66 | 68 | 70 | 73 | 76 | 79 | 82 | 85 |
Washing Instructions
Wash at 40° C
Dry cleaning possible
Do not iron the jacket
Do not use chlorine
Do not tumble dry
Please note: The IQ Magnet pocket can only be purchased separately and the removable food pockets are available only on request
Related links to "IQ Summervest 3.0"
Read, write and discuss reviews...
more
Customer evaluation for "IQ Summervest 3.0"
From:
Markus Nier
On:
13 Sep 2023
Leichte gute Sommerweste
Wie immer top Qualität und super funktional, trage schon die Diensthundeführerweste täglich, sehr zu empfehlen.
From:
Nadja Koßmann
On:
29 Jun 2023
Super Weste
Extrem leicht und angenehm zu tragen, bestens für den Hundesport geeignet!
From:
Alwin
On:
29 Jun 2023
Artikel wurde schnell verschickt und Umtauschen war auch klein Problem. Freundliche Mitarbeiterin am Telefon.
Die Weste ist super angenehm für Sommer jedoch sollte sie eine Größe größer genommen werden da sonst die Bälle und andere Sachen nicht rein passen
From:
Michael Feilner
On:
19 Jun 2023
Die IQ Weste war schon immer spitze und hochwertig, nun in der Sommerausführung ebenfalls richtig klasse.
From:
Bettina Schmitt
On:
26 May 2023
Entsprich der Beschreibung
Wenn man mit der normalen Weste zufrieden ist, kommt man im Sommer an diesem Artikel nicht vorbei
From:
Thomas Kaiser
On:
16 May 2023
Sehr praktisch
Einfach ne tolle Weste. Nutze sie für ab und an Dummyarbeit (aus Spaß mit wenigen Dummys) oder zum Mantrailing. Hat für mich den großen Vorteil, dass die Tasche auf dem Rücken nicht so riesig ist, wie bei den Westen speziell für die Dummyarbeit.
From:
Anja
On:
9 May 2023
Klasse Weste
Klasse Weste. Luftig und leicht sowie viel Platz alles unterzubringen.
From:
Ludwig
On:
29 Apr 2023
Klasse
Tolle Weste , sehr luftig und funktionel !
Die Futtertasche bringt, meiner Meinung nach , einen deutlichen Mehrwert .
Immer wieder gerne IQ .

From:
Arend Marsman
On:
27 Apr 2023
Eine funktionelle und komfortable Weste für auf dem Hundeplatz und darüber hinaus.
From:
Bernhard Heidmeier
On:
22 Apr 2023
Top
Qualitativ die beste Hundesport Jacke sowohl in Funktion als auch Verarbeitung. Hatte die Sommerweste bestellt und habe bereits die normale Weste beauftragt.
From:
Kerstin
On:
22 Apr 2023
Einfach Top! Absolute Lieblingsweste
Tolle Weste. Ich hatte vorher die graue 2.0 und mir jetzt die 3.0 Sommerweste geholt, weil mir schwarz einfach besser gefällt. Bin absolut begeistert. Die schwarze fällt noch enger aus, als die graue Sommerweste und beide sind sowieso enger, als die normale Weste. Passen mit trotzdem noch alle in der gleichen Größe :-)
Gute Qualität
Die Sommerweste macht einen guten und soliden Eindruck und ist dennoch super leicht. Der Versand hätte etwas schneller sein können. Trotz des guten Eindrucks finde ich den Preis schon sehr hoch.
From:
Wilhelm
On:
14 Apr 2023
Für Hundesport gibt es nichts Besseres!
Ich spreche hier nur über die Hundesportbekleidung!
IQ Dogsport ist zu 100% im Hundesport die erste Wahl.
Die IQ Dogsport Hundesportbekleidung gehört sicher nicht zu den billigen Hundesport Ausrüstungen, aber sicher zu den besten.
Die Hundesportbekleidung ist vom Material und von der Funktionalität, für mich und meine Frau die beste die wir bis jetzt finden konnten.
Das Kundenservice von IQ Dogsport ist topp, super Freundlich, super Kompetent und immer bemüht eine Kundenorientierte Lösung zu finden.
DANKE an das gesamte Team von IQ Dogsport!!!!
Wir werden sicher wieder bei euch einkaufen.


From:
Regina
On:
8 Apr 2023
TOP
Funktionale Weste. Super durchdacht, viel Platz um alles zu verstauen.
From:
Stan Demarest
On:
5 Apr 2023
Great summer vest.
We now have 4 vests, two summer and two of the non-summer version. All 4 are the 3.0 versions. These are great training vests for the dogs. Comfortable with tons of storage options.
Top Artikel & Service
Weste wurde super schnell geliefert. Macht einen hochwertigen Ersteindruck.
From:
Lars Triebenbach
On:
30 Mar 2023
1a.
1a. Aus meiner Sicht die Beste Hundesportjacke. Im Versand Top.
From:
Daniel Franz Josef
On:
20 Dec 2022
Alles gut
Artikel ist schnell und zuverlässig geliefert worden, und entspricht genau der Werbung.
From:
Admin
On:
20 Dec 2022
Vielen Dank für die tolle Bewertung!
Write an evaluation
Evaluations will be activated after verification.