Got to train your Blind Search or Bark and Hold more often. But those blinds are way...
more
Product information "IQ POP-UP Blind with Magnet Slots"
Got to train your Blind Search or Bark and Hold more often. But those blinds are way too big and heavy to transport regularly? Thats why we made the Pop-Up Blinds: light and ready to go within seconds. Simply take the IQ Pop-Up Blind out of its cover and it will unfold automatically. Use the four tent pegs to secure the blind in the ground. If you need additional weight, use the weight pockets on the bottom of the tent.
Personally, we often reward our dogs with a magnetic toy in the blind. That way they learn to really take a close look. That's why we added a slot for your magnet on the inside of the blind. It doesnt get lost and its enough to use one rather than two magnets.

Foldable Blind
Folding up the blind is just as fast as setting it up. And it is small and light enough to easily fit in your trunk.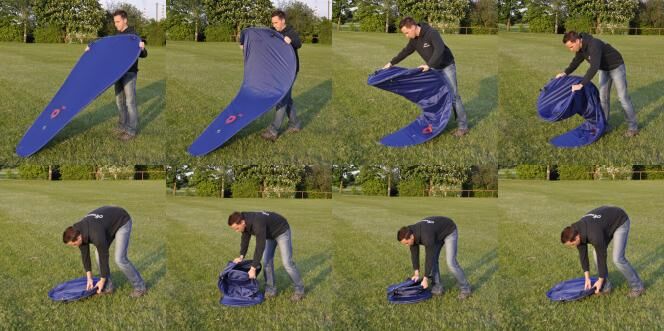 Packsize and Weight of one IQ Pop-Up Blind:
Small pack size: Ø65cm, heigth of only 4cm
Weight: 2,5kg
Step-by-Step Instructions for Download
Once you get the hang of it, opening and packing up the IQ Pop-Up-Blind is simple. Check out our video instructions for details.
Related links to "IQ POP-UP Blind with Magnet Slots"
Read, write and discuss reviews...
more
Customer evaluation for "IQ POP-UP Blind with Magnet Slots"
From:
C.S.
On:
30 Mar 2023
Super toll!
Ich bin von dem Versteck mega begeistert!
Es bleibt auch bei (leichtem) Wind stabil stehen.
Vor allem finde ich es super, dass sich das Versteck super leicht transportieren lässt.
Absolute Kaufempfehlung!
From:
Pallua Helga
On:
23 Dec 2022
Preisleistung passt.
Super einfach, genial
From:
Alexander
On:
29 Jul 2022
Einfach perfekt!
Sehr schnell geliefert, sehr gut verpackt. Die Ware selbst ist sehr gut verarbeitet und hat die volle Funktion. Mit dem Wurfversteck ist man äußerst flexibel. Einfaches und sehr schnelles Auf- und Abbau des Wurfvestecks sind überhaupt kein Problem. Und wenn man all die positiven Eigenschaften bedenkt, ist der Preis-Leistungsverhältnis letztes Endes auch sehr gut...
Ich kann den Wurfversteck nur weiterempfehlen.

MfG, Alexander K.
From:
Michael
On:
20 Jul 2022
Super Versteck
Super Idee und das Versteck ist wirklich gut. Ich hatte meine Zweifel, ob ich das Versteck jemals wieder in die mitgelieferte Tasche bekomme, aber dank der Anleitung ist das wirklich ohne Probleme möglich. Einziger Kritikpunkt sind die Heringe - die sind leider nicht wirklich stabil.
From:
Harriet Hellwig
On:
18 Jun 2022
Sehr zufrieden!
Super schnelle und zuverlässige Lieferung. Wenn man den Dreh beim Abbau mal raus hat, gehts ganz schnell. Da leicht und handlich, kann ich es überall hin mitnehmen.
From:
Christin
On:
10 Mar 2022
Wir haben viel Freude
Das Versteck ist genau das, was wir gesucht und gebraucht haben! Nun werden wir direkt noch ein weiteres bestellen.
From:
Britta
On:
22 Dec 2021
Praktisches mobiles Versteck
Super schnell aufgebaut. Klein Platzsparend und man kann es überall mitnehmen zum trainieren. Beim Zusammen legen bin ich noch ein bisschen am kämpfen :)
From:
C. Becker
On:
16 Sep 2021
Sehr empfehlenswert!
Wenn man das Handling raus hat, dann ist der Aufbau kein Problem.

Werde mir demnächst weitere zulegen.

From:
Uli Schumacher
On:
15 Sep 2021
Sehr praktisch, super Idee.
Beim Zusammenfalten nicht aufgeben, nicht mit Gewählt.
Wenn man den Dreh raus hat geht es ganz einfach.
From:
Simone
On:
15 Aug 2021
Wurfverdteck
Sehr schnell geliefert und auch blitzschnell aufgebaut. Die Häringen sind nötig aber das zusammen machen braucht Kraft. Ich schaffe es nicht. Trotzdem Platzsparend. Die Wurfzelte sind oft im Einsatz. Gute Sache
From:
Anke Opwis
On:
18 Jul 2021
Daumen hoch
Super schneller auf und abbau. Die Löcher zum Durchschauen sind etwas hoch aber jeder bekommt es bisher hin. Bin mega zufrieden mit dem Versteck
From:
Scheuble Angelika
On:
27 May 2021
Super Idee das Zeltversteck
Super schnell zum Aufstellen. Wenn man den Trick raus hat, schnell zusammengelegt. Absolut platzsparend. Bei starkem Wind kann man in den Seitentaschen noch Gewichte legen. Daumen hoch.
From:
Elisch Holger
On:
12 Apr 2021
Tolle Idee sehr praktisch
Bin mit dem ganzen Produkt sehr zufrieden, kann es weiterempfehlen
From:
Stefan Haag
On:
25 Jan 2021
Top!
Super einfach aufzubauen und nach der Anleitung im YouTube Video auch wieder einfach abzubauen.
Preis Leistung sind Spitze
From:
Holger Elisch
On:
4 Jan 2021
Super Idee und sehr Praktisch
Praktisch und klein Super Versteck klasse Idee
From:
Thomas Weyers
On:
25 Dec 2020
Sehr praktisch
Zelt ist super nur ich bin zu blöd es zusammen zu falten
Suche das Video welches Matti oben auch gekuckt hat
From:
Sylvia
On:
18 Nov 2020
Perfekt für diese Zeit
Die Lieferzeit war spitzenmäßig, das Zelt ist total super, schnell aufgebaut, schnell abgebaut, es ist super leicht, die Hunde nehmen es perfekt an, die Größe ist optimal. Man kann es schnell mal mit auf einen Bolzplatz nehmen und aufstellen, nachdem man ja nicht auf den Vereinsgeländen trainieren kann. Ich kann es nur empfehlen.
From:
Matti
On:
26 Aug 2020
Einfach Super! Stundenlange Unterhaltung garantiert!
Super Versteck. Ist sehr einfach transportierbar Dank der Platzsparenden Falttechnik. Dank Haken stabil im Rasen zu befestigen. Das einzige mit dem wir ein Problem hatten, war das zusammenlegen des Verstecks. Da gingen einige Stunden Video Begutachtung (mit vielen Lachern wie unfähig man selber eigentlich ist) ins Land. (wer auch immer die Technik erfunden hat, verdient einen Nobelpreis) 10/10
From:
Gasaleh Peters
On:
5 Aug 2020
Top Versteck
Top Qualität. Leicht und unkompliziert. Sehr zu empfehlen.
From:
Andrea Straßer
On:
15 Jul 2020
sehr gut
TOP! sehr zu empfehlen!
From:
Slavica Prijon
On:
13 May 2020
From:
Thomas
On:
11 May 2020
Absolut praktisch!
Das Wurfversteck ist eine super Sache, um im heimischen Garten oder auf einer Wiese zu trainieren. Sehr leicht, ganz kompakt zusammengelegt, passt es mit Sicherheit in jeden Kofferraum. Es steht stabil, selbst in unserem Trainingsraum (wo natürlich keine Haken in den Boden können), wenn man etwas Gewicht in die Zelttaschen legt, ist es prima zu nutzen. Wir haben Spaß damit und unser Dober erst recht:)
From:
Justin
On:
15 Apr 2020
Das Versteck ist einfach nur super! Es lässt sich mega gut auf und abbauen
Einfach nur Spitze
From:
Danica
On:
25 Jul 2014
Brilliante Erfindung
Einfach eine super Erfindung. Leicht, handlich und schnell aufgestellt. Heute geliefert bekommen und gleich ausprobiert zwischen Umbau und Dachsanierung. :-) Auch von mir eine Klare Kaufempfehlung!
From:
Edmond Kan
On:
4 Oct 2013
Brilliant
Brilliant design. Is actually quite STRONG, I thought it would be thinner but the material is quite substantial, the build is very solid, and it is SO convenient.
Echt klasse Idee
Habe die Verstecke erhalten und war echt positiv überrascht.
Der Aufbau geht schneller als gedacht. Das verstauen ist auch super leicht.
Größe ist gut, man kann auch notfalls mal drin stehen. Mal sehen wie der erste Einsatz mit Hunde aussieht.
From:
H. Rehmer
On:
28 Aug 2012
Geniale Idee :-)
Hallo IQ Dogsport,

ich bin von Euren Schutzdienstversteck ganz begeistert. Hatte auch immer das Problem, dass ich die normalen Schutzdienstverstecke kaum transportieren konnte. Anfangs hatte ich etwas Bedenken, ob die Verstecke auch stabil genug stehen und ich bin sehr positiv überrascht. Auch bei mäßgien Wind stehen die Verstecke noch super.
Von mir eine klare Kaufempfehlung!
From:
Thorsten
On:
23 May 2012
Sehr praktisches Zeltversteck
Bin von dem neuen Zeltversteck echt begeistert :-) Vorher war es immer ein emenser Aufwand das Revieren zu üben, denn die normalen Zeltverstecke sind schon sehr unpraktisch zu transportieren. Die Wurfverstecke bringe ich aber locker ins Auto rein und sie sind zudem super schnell aufgebaut. Echt eine super Idee :-)
Wenn man einmal den Dreh heraus hat, wie die Verstecke zusammengelegt werden geht das auch ratzfatz.

VG Thorsten
Write an evaluation
Evaluations will be activated after verification.