Well designed IQ Training Jacket The well designed water proof IQ Training Jacket (unisex) for...
more
Product information "IQ Training Jacket Unisex"
Well designed IQ Training Jacket
The well designed water proof IQ Training Jacket (unisex) for dog sports consists of an extremely strong and scratch-resistant material. It is waterproof, windproof, breathable and has a lot of extra features.
We developed our Training Jacket with our itried and tested dog sport vest in the back of our heads and included the patented convertible chest pocket and slot for the whip down the back.
Highlights
The IQ Training jacket offers you a lot of intelligent details to assist you in optimal dog training. It comprises two large cargo style chest pockets which you can convert into one large chest pocket at your convenience. You can use the large chest pocket to stow a ball or tug in the centre of your body. Rewarding through the centre of your body will teach the dog a straight recall in front.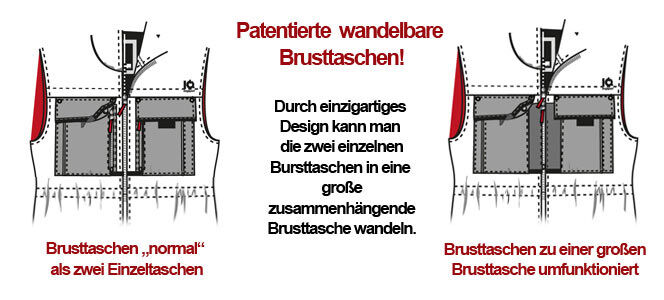 Another feature of this jacket is the slide-in pocket down the back for any position sticks or whips used in the training. This pocket extends down the entire back length. At the bottom of the whip pocket are perfectly placed drain holes for water and dirt to easily run through, which can also be found in the large back tunnel pocket.

In each of three pockets on the inside of our jacket you can stow a magnet used in any Magnet-Ball-System (e.g., Top-Matic). This will keep you from losing these generally expensive magnets. You can further attach a magnet anywhere along the long zipper in the center of our jacket. This zipper is made to give room for a print/emnroidery on the back of your jacket.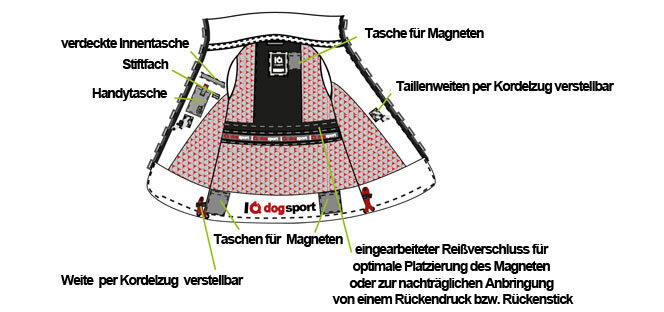 Details:
Material:
Water column: 20,000mm - 1 year warranty, laser-weld seams
Water-, and wind-resistant, breathable
Particularly rip- and scratch-resistant material
Dirt-repellent
All-Weather-Jacket
Pockets:
Patented changeable breast pocket (one large or two separate breast pockets)
Patented single back whip pocket
Unique 3-pocket system
3 magnet pockets, strategically placed
Zipper pocket for valuables
Large back pocket
Removable food pockets
Cell phone pocket, purse wallet, pocket for upper wallet, pocket for pen
Zipper:
2-Way-Zipper (YKK) with Zipperpuller
Comfort:
3D inner lining for optimal climate regulation
Drawstring waist: adjustable elastic to adjust the ideal fit
Large zipper in the inner lining for optimal placement of magnets or for embroidery
Integrated name plate
Sleeve with adjustable Velcro closure
Hood: detachable, adjustable elastic band, stowable in the collar
Size Chart in centimerts
Measure Description
S
M
L
XL
2XL
3XL
4XL
P1
Length center of back starting at collar
78,00
79,00
80,00
82,00
86,00
89,00
92,00
P2
Chest circumference Jacket
109,00
115,00
121,00
127,00
133,00
139,00
145,00
Chest width
98,00
104,00
110,00
116,00
122,00
128,00
134,00
P3
Hem width
109,00
115,00
121,00
127,00
133,00
139,00
145,00
Body width hip
98,00
104,00
110,00
116,00
122,00
128,00
134,00
P4
Length arms of jacket
67,00
68,00
69,00
71,00
73,00
75,00
77,00
P5
Shoulder width jacket
15,00
15,50
16,00
16,50
17,50
18,50
19,50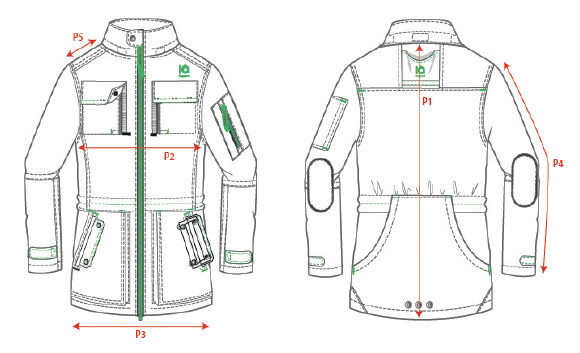 Washing Instructions
Washable at 40°C/ warm
Dry clean ok
Do not iron
Do not bleach
Do not tumble dry
Hang to dry
| | |
| --- | --- |
| Material: | Nylon |
| Colors: | Grün, Grau |
| Lining: | 3D-Innenfutternetz für ideale Klimaregulierung |
| Material Characteristics: | wasserdicht, winddicht, atmungsaktiv, robust |
| Water Column: | 20.000mm |
| Size(s): | S, M, L, XL, 2XL, 3XL, 4XL |
| Fit: | gerader Schnitt |
| Pockets: | große Rückentasche, Tasche mit Reißverschluss für Wertgegenstände, Futterbeutel, Tasche für Futter, Handy-Tasche, Tasche für Geldbörse, Kugelschreibertasche, Tasche am Oberarm, patentierte wandelbare Brusttasche, patentiertes Einschufbach für Gerte, einzigartiges 3-Taschensystem, Magnettaschen |
| Hood: | mit Kapuze |
| Hood Details: | abnehmbar, mit regulierbarem Elastikband, im Kragen verstaubar |
| Zipper: | stabiler 2-Wege-Reißverschluss |
| Collar Details: | Reißverschlussgarage |
| Elastic String Waist: | einstellbarer Gummizug zum Einstellen der idealen Passform |
| Sleeve ends: | mit verstellbarem Klettverschluss |
| Jacket Closing: | mit Gummibündchen |
| IQ Specials: | mit integriertem Namensschild, großer Reißverschluss im Innenfutter um Magneten optimal zu platzieren oder für Stickereien |
| Washable: | bis 40° C |
Related links to "IQ Training Jacket Unisex"
Read, write and discuss reviews...
more
Customer evaluation for "IQ Training Jacket Unisex"
From:
Petra
On:
15 Apr 2023
Tolle Jacke
Eine absolut tolle Jacke! Für jedes Wetter geeignet und bequem. Ich bin begeistert. Sie hat viele Taschen und man kann Sie überall tragen nicht nur zum Training mit dem Hund. Ich nutze Sie auch zum Radfahren.
From:
Ulrike
On:
27 Mar 2022
Jacke
Eine Jacke mit vielen guten Details. Mir hat sie leider nicht gepasst. Die Ärmel sind zu lang und im Brustbereich zu eng. ae77c
From:
Rene James Putsche
On:
18 Feb 2022
Passt perfekt!
Hab nach der größentabelle bestellt und passt perfekt. Bin sehr zufrieden.
From:
Anja
On:
28 Dec 2021
Tolle Jacke
Tolle Hundesportjacke mit vielen Details. Der Schnitt ist für mich perfekt, lediglich die Ärmel könnten etwas kürzer sein. Die hintere Länge der Jacke reicht gut über das Gesäß, was gerade bei schlechtem Wetter sehr angenehm ist.
From:
Andreas Kirschner
On:
2 Dec 2021
Meine erste Jacke von IQ. Sehr gute Qualität, viele Taschen. Passt gut. Möglicherweise würde ein "Herrenschnitt" noch besser sitzen als Unisex. Über eine "Winterfütterung könnte man vielleicht auch nachdenken.
From:
Beat Akermann
On:
10 Aug 2021
Alles Top!!
Wie gewohnt ist alles in sehr guter Qualität. Der Service, die Lieferung und die Qualität der Jacke. Für mich etwas lang, aber das schützt ja auch! Sonst perfekt!
From:
Gina Kastrup
On:
25 Jun 2021
Gewohnt herausragender Service und beste Qualität
Diese durchdachte Trainingsjacke bietet den gewohnten Komfort und dabei ansprechendes Design. Subjektiv dürfte diese Jacke etwas kürzer geschnitten sein, ist aber von ausgezeichneter Qualität.
From:
Thorsten
On:
13 May 2021
Jacke für jede Nasse Jahreszeit....viel Freude ist damit garantiert
Diese Jacke ist etwas länger geschnitten und schützt sehr vor Regen und Wind. Der Stoff ist wie auch bei den anderen Jacken sehr strapazierfähig und perfekt ausgeklügelt sind die vielen Extras.
From:
Bernd Persson
On:
1 Apr 2021
i.O.
Alles i.O. Bin sehr zufrieden .Für mich sind die Ärmel etwas zu lang. Aber nicht jeder hat die ideale Figur. Ich würde immer wieder diese Jacke kaufen.
From:
Ioannis Giannaras
On:
19 Mar 2021
Bericht wird folgen.
Hallo an alle Leser,
ich habe die Sommerjacke noch nicht in der Nutzung, da ich mit der aktuellen Wetterlage immer noch die Winterjacke nutze. UND DIESE IST SUPER. (Siehe unter meinen Namen die Bewertung für die Winterjacke). Ich werde aber wieder zurück kommen und meine Bewertung abgeben, sobald ich diese aktiv genutzt habe.
LG
I.Giannaras
From:
Chriss
On:
12 Mar 2021
Super Trainingsjacke
Passt Seher gut und hat die Vorteile der Weste plus die Futtertaschen und dann noch als Regenjacke!!
From:
Jon Anthony Davison
On:
8 Feb 2021
The Perfect Dog Training/Sports Jacket + A great company
The jacket is perfect for anyone with a dog, the number of pockets and the additional linings in the bottom two pockets so you can use treats in the jacket, also the versatility with so many other places to store everything, being waterproof, windproof, scratch and tear resistant just adds another level, the large back pocket is brilliant and even fits pullers in.
I should also add that I am really impressed with the company - with some issues around Brexit for delivery they did all they could and more to get the jacket too me - Exceptional Customer Service .... Thank you ... Let the adventures commence!!
From:
Jürgen S.
On:
10 Sep 2020
Absolut wasserdicht
Ich hatte jetzt schon viele Male die Gelegenheit die Jacke bei strömendem Dauerregen im Hundetraining auf Wasserdichtigkeit zu testen. Ich bin total begeistert, egal wie es geschüttet hat, nach dem Training war unter der Jacke immer alles trocken.
Sogar die Leckerlis bleiben durch die Patte über der Tasche trocken und verwandeln sich nicht zu Brei.
Ich finde die Jacke großartig und auch die Qualität und Verarbeitung sind spitze!
From:
Sven Frommberger
On:
4 Sep 2020
Bin voll und ganz zufrieden
From:
Anna Lang
On:
25 Aug 2020
Klasse!
Eine absolut tolle Jacke! Für jedes Wetter geeignet, bequem und mit sehr vielen Möglichkeiten ausgestattet.
Bin mehr als begeistert.
From:
Jens Weigert
On:
4 Jun 2020
Top!
Bin von der Jacken und den 1000 Taschen begeistert! Für mich die beste Jacke für den Hundesport die ich je hatte!
From:
Jochen Schulz
On:
22 Jan 2020
Tolle Hundesportjacke fürs Training
Ich habe die Jacke von meiner Frau zu Weihnachten bekommen und bin von den vielen tollen Details der Jacke begeistert :-) Man merkt, dass die Jacke von Hundesport-Leuten für Hundesportler gemacht wurde. Ich liebe die Brusttasche der Weste und bin nun froh, dass ich auch eine Jacke habe mit der Brusttasche!
Von der Größe fällt die Jacke normal aus. Ich trage normalerweise eine 48 bzw. M und auch hier passt mir die M sehr gut.
From:
Hannes Vavra
On:
30 Apr 2019
Die fast perfekte Jacke fürs Training oder zum spazieren
Die Jacke ist wirklich sehr gut durchdacht und von der Qualität top ! Würde sie wieder kaufen !
Jedoch der Umbau der Brusttasche mit den klettern gefällt mir nicht so ! Würde das eher mit Druckknöpfen oder zip lösen da der kletter beim waschen optisch zum ausfransen beginnt und nicht mehr so gut hält ! Das ist wirklich das einzige was es zu beanstanden gibt !
Beste Jacke beim regen was ich bis jetzt gesehen habe einfach ein Traum
From:
Bastian Ziegler
On:
9 Apr 2018
Endlich gibt es die Jacke
Ich habe seit 5 Jahren die Westen und bin von der Brusttasche völlig begeistert! Endlich gibt es auch eine Jacke mit der Brusttasche :-)
Write an evaluation
Evaluations will be activated after verification.